We are excited to be here at My Yellow Sandbox while Abby is away!
We love making Halloween crafts, it's our favorite!
Today we want to show you how we made our latest project, a "BEWARE" banner.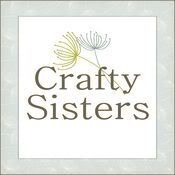 I don't know about you, but we have TONS of scrapbook paper leftover from our many projects.
We put them to good use!
So here's how we made our banner:
It's a wickedly pretty font, with a "splattery" look.
We used MS Publisher to size the letters to about 3 inches, and then we added circles for easy cutting.
See, you don't have to have all the fancy machines to create a banner, although they are very nice! :)
This is how we made a 4 inch paper yo...in a hurry!
Cut 4 (4x6) pieces of paper, then fold each at about 1/4".
Fold over and glue each gap together to create a circle.
We absolutely love Beacon Adhesive Glue...it is wonderful!
It has a quick and durable bond, like a glue gun without all the burns.


To give the paper extra thickness, we used spray adhesive to bond the decorative paper to card stock.
We cut each large banner at 6 x 8 inches, and notched a triangle out of the bottom.
Cut your circles, and accent circles and glue them all together.
We added some of the black furry yarn in between the circles,
and also added some fur to the ribbon to hang the banner.
Love that stuff!
It adds the perfect amount of spookiness to any Halloween project.
There you go, a fun and easy project anyone can do!
Plus, you get to use all those old paper scraps you have hanging around your house!
Thanks Abby for having us!